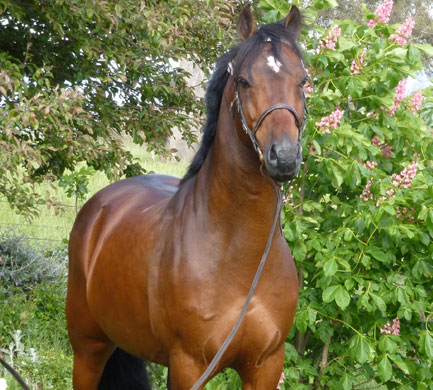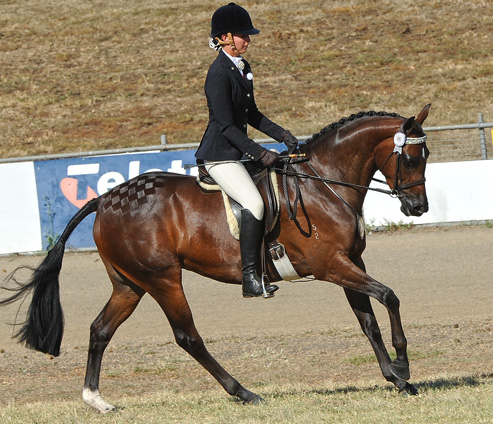 Trellech Enigma (IMP UK)    [pedigree]
Bay 14.2hh Riding Trellech Enigma (IMP UK)Pony Stallion
By Cusop Fingerprint (UK) (SOS Cusop Disciplin)
out of Trellech Spirit of Spring (UK)
(SOD Trellech Royal Ensign).
A beautifully bred up to height pony with terrific looks and elegance Trellech Enigma has correct conformation, with clean shoulders and a stunning neck. He is a perfect example of the breedy head and elegant features Trellech Stud stamp on their stock. Of special note is his remarkable movement. He is surely one of the best moving riding pony stallions in the country, with a free action from the shoulder, and impulsion and suspension behind.

Trellech Enigma (imp) is the only Cusop Fingerprint stallion in Australia. Trellech Enigma's (imp) dam is the beautiful Trellech Spirit of Spring, a British National Champion at two years of age. Spirit of Spring was by the Anglo Arabian stallion Trellech Royal Ensign who sired excellent stock for Trellech Stud including the unbeaten Trellech Chantilly Dream (Dam of (Howetown Dreamcatcher), Trellech Minuet, and Trellech Chantilly Silk (imp).

These qualities have seen him breed riding ponies fit for both led and saddle careers including youngstock champions Farleigh Fantasia, Odette, Tudor Rose, Hermione, Anne Boleyn and Clemson Signet. He is crossing exceptionally well with our Nimrod and Kit-cat mares.